Education
Part of our mission at the Texas Sheep and Goat Raisers Association is to inform both current and future generations about the importance of sheep and goats to an agricultural economy. We have prepared the following educational materials that are targeted at varying age groups. Additionally, at the bottom of this page you will find information on the TSGRA Scholarship including how to apply.
Elementary Level Education
Elementary Level Sheep Part 01
Elementary Level Sheep Part 02
Elementary Level Goats
Secondary Level Education
Secondary Level Sheep Part 01
Secondary Level Sheep Part 02
Secondary Level Goats
TSGRA Scholarship
The Texas Sheep and Goat Raisers Association has three scholarships that are available to future Agricultural studies majors. The three restricted memorial scholarship funds are the Louis and Eddie Mae Woodward Memorial Scholarship Fund, the Bryan and Velma Hunt Memorial Scholarship Fund and the Wayland Foster Memorial Scholarship Fund. The Woodward and Hunt scholarships are single year scholarships given to graduating seniors in the sheep and goat raising area who major in some form of agricultural studies. The Foster scholarship is a four-year scholarship with the same restrictions.
Those interested in the Bryan Hunt Scholarship should visit the San Angelo Area Foundation website at saafound.org. Their online scholarship application will also put you in place for any other scholarships that are available in your field.
The Woodward scholarship is handled by the Woodward family and is given only to a young person from the Fort Stockton area. If you fit into that category, contact Lowell Woodward, P.O. Box 555, Ft. Stockton, TX 79735.
The Foster scholarship is given once every four years. The current recipient is in their second year of the scholarship.
For more information, contact TSGRA at tsgra@wcc.net.
TSGRA Recipes
Tasty recipes featuring lamb and goat! Check back often for more!
---
Rack of Lamb With Maple-Roasted Brussels Sprouts, Delicata Squash, and Pears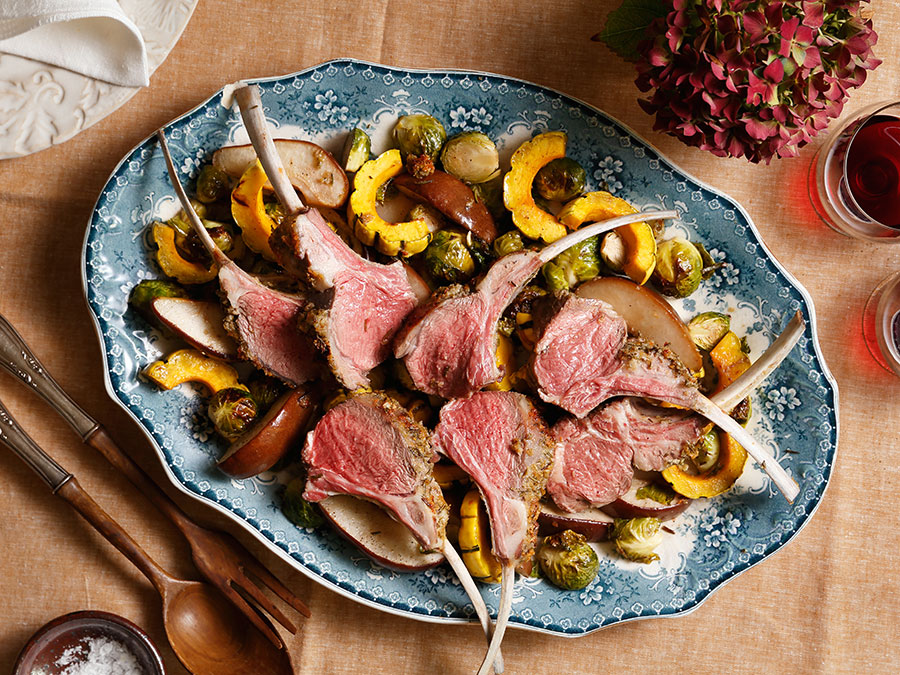 View Recipe