About Us

TSGRA Founders photo provided courtesy of Jim Bean Photography.
Established in 1915 to combat livestock theft, the Texas Sheep and Goat Raisers Association is the oldest sheep and goat organization in the United States. The TSGRA fights to protect private landowners' property rights against the ever-growing, unnecessary, as well as, unconstitutional regulations brought about by government and environmental programs proposed in Washington and Austin on a daily basis.
Some of our past accomplishments include:
Obtained funding for predator control
Earned federal economic support for wool and mohair
Established the National Sheep Improvement Center
Passed the 201 Trade Action to limit lamb imports
Had goats/goat meat included in the American Sheep Industry Association policy statement
Today, we continue to fight for fair regulation and laws regarding:
Labelling and price reporting of imported lamb and goat meat
Permanent federal program for wool and mohair
Improve animal health regulations and labeling of products for sheep and goats
Limits on imports of goat and lamb
Water rights for agricultural use
We support local interests for sheep and goat raisers including:
Sonora Experiment Station
Sheep and Goat Predator Management Board
Wool & Mohair Lab at Texas A&M Research and Extension Center in San Angelo
TSGRA Memorial Fund
The Texas Sheep & Goat Raisers Association has three restricted memorial scholarship funds and one general memorial fund. The general memorial fund may be used to memorialize friends or family who have been a part of the sheep and goat industry. Additional contributions to this fund go toward the upkeep of our headquarters, which is a 1921 Spanish Colonial building that is on the National Register of Historic Places. For more information about our three restricted memorial scholorship funds, please view the scholarship section of our education page.
TSGRA Recipes
Tasty recipes featuring lamb and goat! Check back often for more!
---
Rack of Lamb With Maple-Roasted Brussels Sprouts, Delicata Squash, and Pears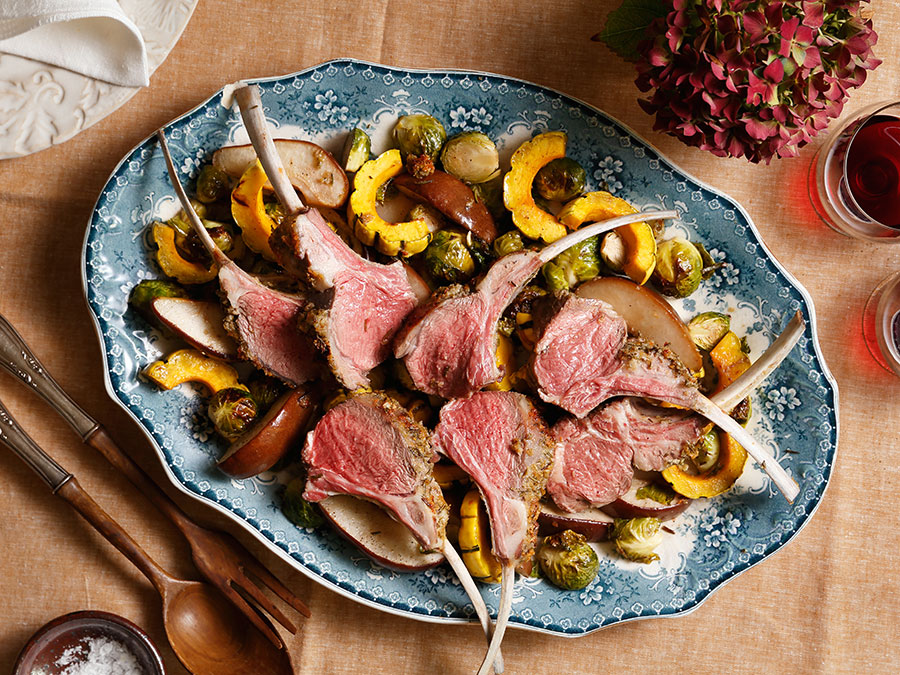 View Recipe