TSGRA Events
TSGRA 102nd Annual Convention
July 20-22, 2017
Y.O. Ranch Hotel, Kerrville, TX
There are some new additions to the convention this year, here is the schedule of events for the 102nd TSGRA Annual Convention at the YO Hotel on July 20-22, 2017.
Thursday, July 20th
• 12:00 PM- 20th Annual Goat Ropers Golf Tournament at the Schreiner Municipal Golf Course. Tee off time is 12:00 PM, plan to arrive at 11:30 AM. Entry fee for 18 holes is $50.00, this includes green fees, half a cart and one mulligan. Teams will be made up of one A, B, C and D player based on handicaps. Winners will be recognized and prizes awarded at the banquet Saturday night.
• 3:00-5:00 PM- Pre-registration/pickup in the Board Room in the hotel lobby.
• 5:30-7:00 PM – Social in Hotel Lobby
Guests can visit with each other and industry partners participating in the TSGRA Trade Show, food stations with light hors-d'oeuvres will be provided.
Friday, July 21st
• 7:00 AM – Livestock Damage Management Association Breakfast
• 8:00 AM – Registration Continues
• 9:00 – 12:00 TSGRA Committee Meetings
• 12:00 – 1:30 TSGRA Luncheon and awards presentation
Keynote Speaker: Congressman Mike Conaway
• 1:30 – 3:30 Annual membership meeting and election of officers
• 5:30 PM buses leave for Roeder Ranch
The buses will run in shifts back and forth to the YO Hotel and Roeder Ranch, they are covered in your registration fee so there is no need to register.
• 6:00 PM BBQ at Roeder Ranch, presentation of the Earwood and Dietert Awards and TSGRA Auction
Saturday, July 22nd
• 7:00 AM Past President's Breakfast
• 8:00 AM Horseless Goat Roping
Afternoon options:
• 12:30 – 4:30 Hill Country Wine Tours- $145 per person (includes tour, tasting, transportation and snacks) Tour and taste at three of the Hill Country's finest wineries, MUST BE PRE-REGISTERED.
• Family swim party, enjoy the YO Hotel swimming pool, fun and games for the whole family.
• 1:00 – 4:00 Skeet Shooting Tournament- $100 per person (Please bring your gun and ammunition) MUST BE PRE-REGISTERED The tournament will be held at Hill Country Shooting Sports Center, 1886 Cypress Creek Rd, Kerrville, TX.
• 6:00 PM – Midnight Dinner and Dancing to the music of Case Hardin
Dinner will be buffet style at 6:00, followed by dancing and announcement of award winners for the golf tournament and skeet shooting tournament and TSGRA raffle drawing.
Babysitters will be available for individual events during the convention for those with children. RSVP to (325)655-7388.
Ladies Auxiliary Schedule
Scrapie Board Meeting
Thursday 3:00
YO Hotel
TSGRA Recipes
Tasty recipes featuring lamb and goat! Check back often for more!
---
Rack of Lamb With Maple-Roasted Brussels Sprouts, Delicata Squash, and Pears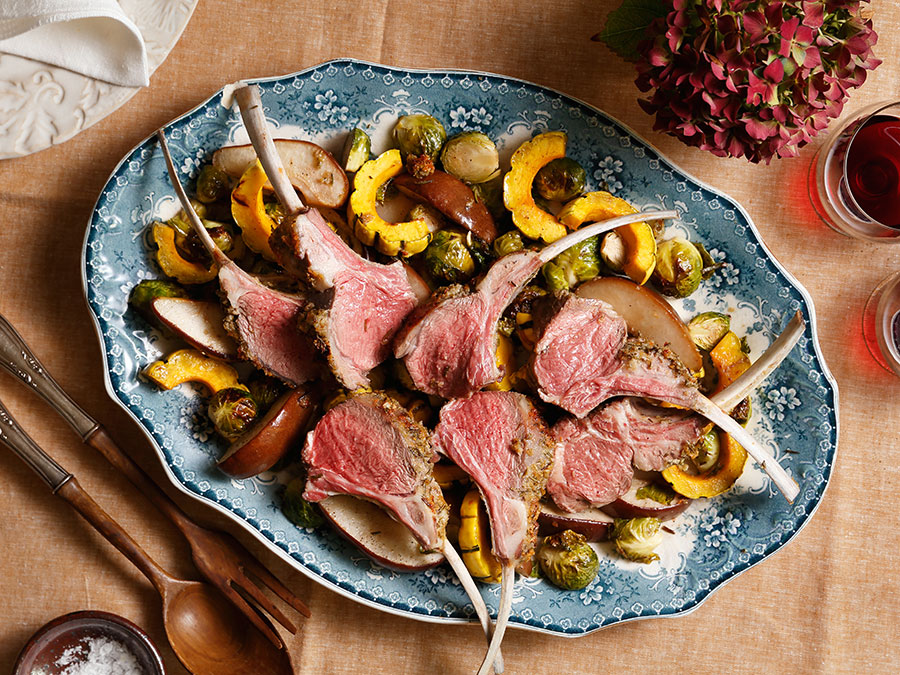 View Recipe