Recipes
Looking for fun and unique ways to cook with lamb or goat? Want to treat your family with a unique and delicious dish? We have compiled several mouth watering recipes that are easy to make at home. If you have your own sheep or goat recipe that you would like to share with us please email it to tsgra@wcc.net.
Rack of Lamb With Maple-Roasted Brussels Sprouts, Delicata Squash, and Pears
---
Ingredients
6 garlic cloves
3 tablespoons fresh rosemary leaves
2 tablespoons extra-virgin olive oil
1 rack of American lamb, frenched (1 ½ to 2 pounds)
Kosher salt and freshly ground pepper
Vegetables
1 medium delicata squash (about 1 pound)
12 ounces Brussels sprouts, trimmed and halved (keep any loose leaves)
2 red Anjou or Bartlett pears, halved, stemmed and cored, and each cut into 8 wedges
2 tablespoons extra-virgin olive oil
2 tablespoon maple syrup
Kosher salt and freshly ground pepper
2 handfuls fresh parsley leaves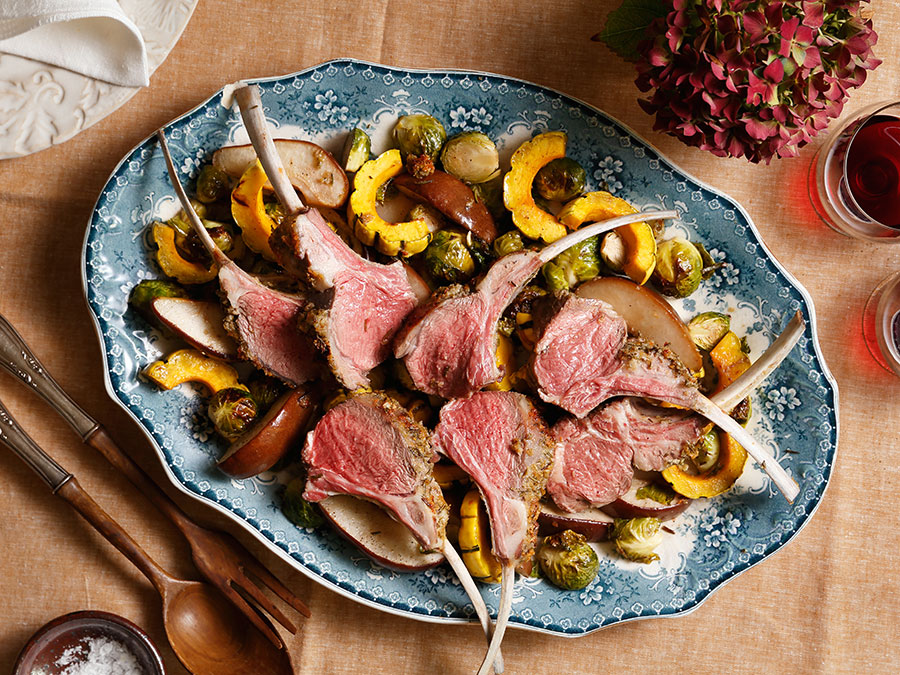 Directions
Preheat the oven to 475°F.
For the lamb: In a mini food processor (or with a knife), finely chop the garlic, rosemary, and olive oil until the garlic is a paste and the rosemary is a mix of some finely chopped and some larger leaves. Season the lamb rack on both sides with salt and pepper, then rub with the garlic-rosemary mixture. Set aside at room temperature for about 1 hour.
For the vegetables: Halve the squash lengthwise and scoop out the seeds. Cut it into 1/2-inch-thick moon-shaped slices. Pile the squash, Brussels sprouts, and pears in the center of a large rimmed baking sheet. Drizzle with olive oil and maple syrup, and sprinkle with a few big pinches of salt and several grinds of pepper. Toss to coat evenly, and spread the mixture in a single layer on the baking sheet. Place the lamb meaty side up in the center of the pan, covering some of the vegetables and pears.
Roast until the internal temperature reaches 130 to 135˚F on an instant-read thermometer for medium-rare, 10 to 15 minutes. (The internal temperature will increase to 145˚F out of the oven.) Transfer the rack to a large platter and cover loosely with foil to rest for 10 to 15 minutes.
Roast in the upper third of the oven until the vegetables are tender and the internal temperature of the lamb reaches about 120˚F on an instant-read thermometer, 25 to 30 minutes. Switch the oven to broil and position the sheet pan so that the top of the lamb is about 4-inches from the broiler. Broil until the lamb and vegetables are nicely browned on top, 3 to 5 minutes.
Transfer the rack to a carving board, tent it with foil, and let rest for 10 minutes. Loosen the pears and vegetables from the baking pan with a spatula, scraping up any browned bits from the pan, and toss them together with the parsley. Transfer to a warmed serving platter.
Carve the rack between the rib bones and transfer to the platter, nestling it over the vegetables and pears. Serve immediately, with Syrah wine.
Nutrition
---
Credit for this recipe and the photo go to www.americanlanb.com. Please visit their site for more recipes.
Spicy Lamb Meatball Flatbreads with Sweet Potato Puree
---
Ingredients
Sweet Potato Purée
1 1/2 pounds garnet or jewel yams (1 large or 2 small)
1/2 cup Greek yogurt
1 teaspoon kosher salt
1/2 teaspoon pure vanilla extract
Meatballs
1¼ pounds American ground lamb
2 garlic cloves, minced
1 teaspoon kosher salt
1 teaspoon Spanish smoked paprika
1 teaspoon ground cumin
½ teaspoon cinnamon
¼ teaspoon freshly ground black pepper
2 tablespoons extra-virgin olive oil
Flatbread of choice
4 handfuls baby arugula leaves
Optional Toppings: thinly sliced red onion, thinly sliced cucumber, parsley, mint or cilantro leaves, crumbled feta, sesame seeds, chile oil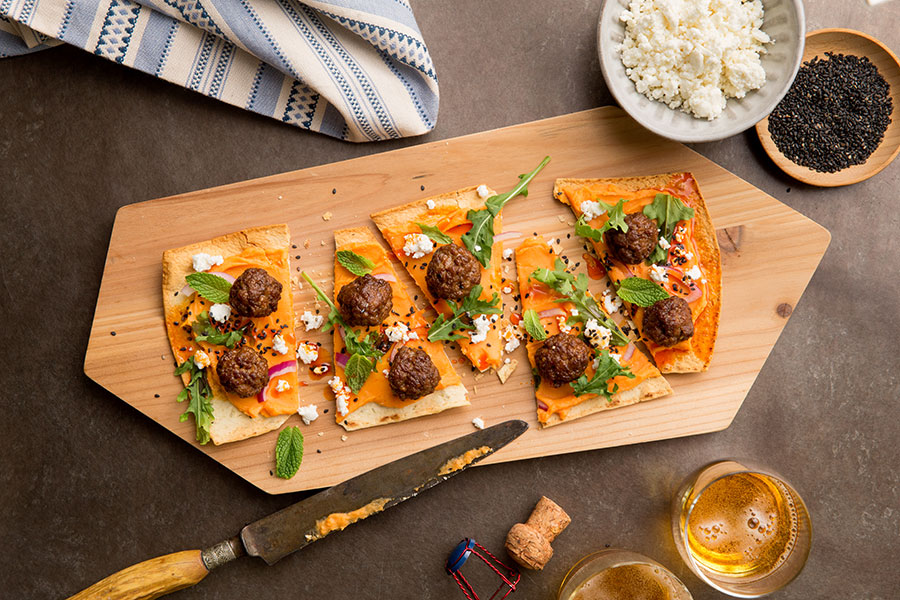 Directions
To make the sweet potato purée: Preheat the oven to 400°F. Line a baking dish with aluminum foil. Prick each sweet potato a few times with a fork, and bake until very tender, about 1 hour. When cool enough to handle, peel the sweet potatoes, break them into large chunks, and purée in a food processor with the yogurt, salt, and vanilla until smooth. (The sweet potato purée will keep for a few days in the refrigerator; rewarm before serving.)
To make the meatballs: Combine the lamb, garlic, salt, paprika, cumin, cinnamon, and pepper in a large bowl and mix to thoroughly combine. Roll 2-tablespoon-size balls of the mixture to yield about 24 meatballs.
Heat the oil in a large frying pan over medium heat. When the oil is shimmering hot, add the meatballs in a single layer with room between them. (Cook in two batches if needed.) Let them cook without disturbing until a crust forms on the bottom side, about 2 minutes, then continue cooking, stirring often, until nicely browned on all sides and cooked through, 10 to 12 minutes.
To assemble: Toast the flatbreads in a 375˚F oven until lightly browned around the edges and crisp, 3 to 5 minutes. Top each flatbread with a smear of the sweet potato purée, about 6 meatballs, a handful of arugula leaves, and the optional toppings of your choice. Serve hot or at room temperature with apple cider.
Nutrition
---
Credit for this recipe and the photo go to www.americanlanb.com. Please visit their site for more recipes
Margarita Lime Lamb Nachos
---
Ingredients
2 Tbsp. olive oil
1/2 Lime
1/4 cup of Tequila
1 lb. ground American Lamb
1 bag of nacho chips
1 cup of sharp cheddar cheese
1/2 onion (diced)
1/2 cup of sliced mushrooms
1/2 cup of scallions
1 package of Taco seasoning
1 cup of diced tomatoes
Directions
At medium heat add 2 tablespoons of olive oil to skillet, combine onions and mushrooms sauté until both are soft
Add tequila, stir for about 2 minutes
Add lamb, cook ground lamb with taco seasoning to 140 degrees, then squeeze the lime over top of mixture and stir in
Serving Instructions
Lay nacho chips in center of the bowl or plate, put lamb mix over chips, then add the topping of tomatoes, scallions, and cheddar cheese.
Nutrition
---
This recipe is courtesy of Nick Forrest, American Lamb Board. The recipe was demonstrated and offered to the participants of the 2016 Texas A&M AgriLife Sheep & Goat Expo. I can personally vouch for this recipe, it was excellent!
Stuffed Pepper with Ground Lamb
---
Ingredients
Vegetable Oil
Cooking Spray
1 8-ounce can tomato sauce
4 medium green bell peppers
1 4-ounce can chopped green chilies
1/2 lb. lean ground lamb
1 clove garlic, minced
1/4 cup chopped onion
1/4 teaspoon dried oregano
1 cup cooked brown or white rice
1/8 teaspoon freshly ground pepper
Directions
Preheat oven to 350 degrees F. Spray an 8-inch-wide baking dish with cooking spray. Cut a thin slice from stem end of each pepper. remove all seeds and membranes. Cook the peppers in a large pot of boiling water for 5 minutes. Drain and set aside.
In a large nonstick skillet, saute ground lamb and onion over medium-high heat for about 5 minutes until lamb is browned and the onion is tender; drain off fat. stir in rice, 1/2 cup of the tomato sauce, garlic, oregano, green chilies, and pepper. divide the mixture evenly to fill the peppers. Stand the peppers upright in the prepared baking dish and top them with the remaining tomato sauce.
Cover the dish with foil. Bake for 40 minutes, uncover and finish baking for 10 to 15 minutes. Serve and Enjoy!
Nutrition
260 Calories, 12g total fat, 420mg sodium, 55mg cholesterol, 4g fiber, 17g protein.
---