Welcome to Texas Sheep & Goat Raisers Association
The Texas Sheep and Goat Raisers Association promotes and advocates production agriculture throughout Texas and the United States. We seek out, as well as offer reference material for resource loan programs that promote and benefit wool, mohair, and meat producers. We also seek to teach future generations about the importance of sheep and goats to agriculture and our economy. We also contribute to the future of our industry by providing scholarships to agricultural studies majors.
As a member of the TSGRA, you have a voice in helping to shape the laws and regulations of our industry. Our members provide collective input that we then take to Austin and Washington to fight for your rights as Texas ranchers. We have successfully defended the rights of sheep and goat raisers in the past and we continue to do so with the support of our members. If you are interested in becoming a member of the TSGRA, please visit or membership page to join today!
TSGRA Recipes
Tasty recipes featuring lamb and goat! Check back often for more!
---
Rack of Lamb With Maple-Roasted Brussels Sprouts, Delicata Squash, and Pears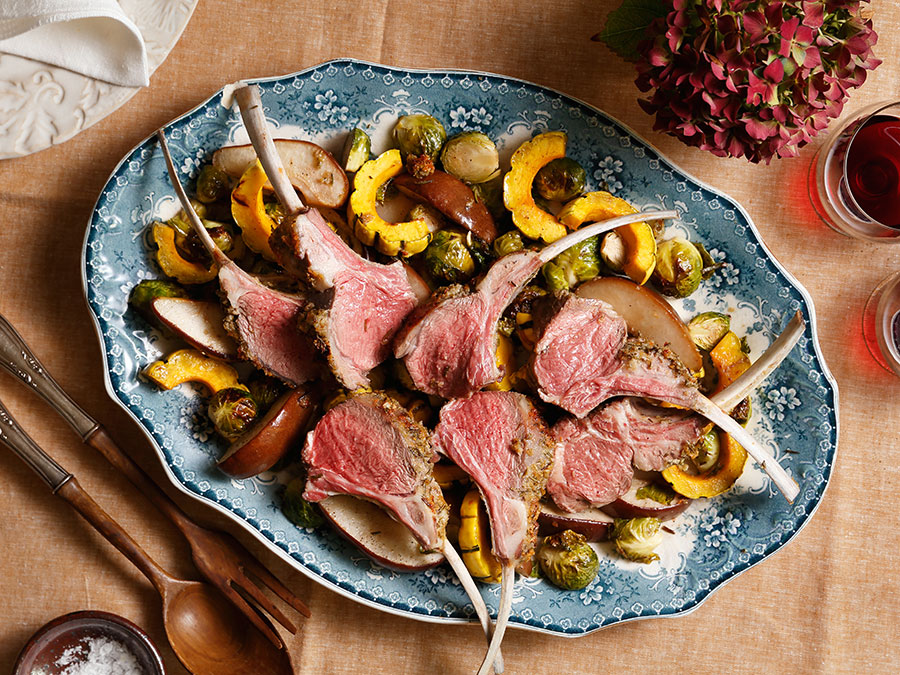 View Recipe
News & Announcements
Anthrax Outbreak Resources
Anthrax has been recently diagnosed in Crockett, Kinney, Sutton, Uvalde, and, Val Verde Counties. It is of the upmost importance that livestock owners respond quickly and take action to prevent the spread of the disease.
Vesticular Stomatitis Update
TSGRA UPCOMING EVENTS
December 6-7, 2019
Bentwood Country Club, San Angelo, Texas
The TSGRA Winter Meeting will be held on Saturday December 7th at Bentwood Country Club in San Angelo, Texas. There will be an open house reception the night before on Friday December 6th at the TSGRA Headquarters in San Angelo, Texas.
Open House Reception Friday, December 6th, 5:30 pm – 7:00 pm: TSGRA Headquarters, 233 W. Twohig Ave., San Angelo, TX – There is no fee for this event but donations for the TSGRA PAC are welcome and accepted on site.
TSGRA Winter Meeting Saturday, December 7th 9:00 am: Bentwood Country Club, 2111 Club House Lane, San Angelo, TX – $30 per person. On site registration begins at 8:30 am. The meeting starts at 9:00 am. A delicious lunch of lamb with all of the trimmings will be served. The program will include a wide array of topics and speakers. There is ample parking located adjacent to the building and all activities are on ground level for easy handicap accessibility.