Welcome to Texas Sheep & Goat Raisers Association
The Texas Sheep and Goat Raisers Association promotes and advocates production agriculture throughout Texas and the United States. We seek out, as well as offer reference material for resource loan programs that promote and benefit wool, mohair, and meat producers. We also seek to teach future generations about the importance of sheep and goats to agriculture and our economy. We also contribute to the future of our industry by providing scholarships to agricultural studies majors.
As a member of the TSGRA, you have a voice in helping to shape the laws and regulations of our industry. Our members provide collective input that we then take to Austin and Washington to fight for your rights as Texas ranchers. We have successfully defended the rights of sheep and goat raisers in the past and we continue to do so with the support of our members. If you are interested in becoming a member of the TSGRA, please visit or membership page to join today!
TSGRA Recipes
Tasty recipes featuring lamb and goat! Check back often for more!
---
Rack of Lamb With Maple-Roasted Brussels Sprouts, Delicata Squash, and Pears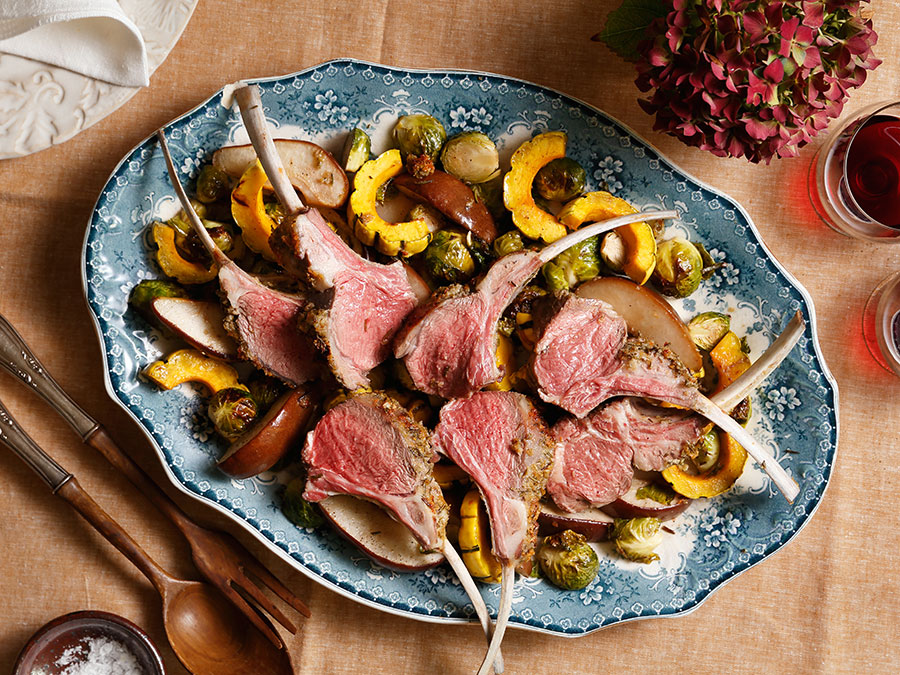 View Recipe
News & Announcements
Hurricane Information
Here are some links provided by the TAHC.
Preparation Resources:
• National Hurricane Center: http://www.nhc.noaa.gov
• TAHC Website: http://www.tahc.texas.gov/emergency/index.html
• AgriLife Extension Website: https://agrilifeextension.tamu.edu/blog/2015/06/15/hurricane-preparedness-lists-resources/ and https://texashelp.tamu.edu/browse/by-type/naturally-occurring/hurricanes/
• Livestock Disaster Preparedness Kit: https://www.youtube.com/watch?v=NWvnT2HeOdY
• Floods and Your Livestock: http://www.prep4agthreats.org/Assets/Factsheets/Floods-and-Your-Livestock.pdf
• Preparing your Pets for Emergencies: https://www.fema.gov/media-library-data/1392389819026-75460345a2f4adcc5418a1da7cb25eef/2014_PrinterFriendly_PetOwners.pdf
• Small Animal Disaster Preparedness Kit: https://www.youtube.com/watch?v=J-TnDcp_iio
FSA
Livestock Indemnity Program: https://www.fsa.usda.gov/programs-and-services/disaster-assistance-program/livestock-indemnity/index
We are all sending prayers and will be keeping everyone updated. Please let us know if you need special assistance, we will do what we can to help out. Stay safe!
Animal Disposal
As the Hurricane Harvey response efforts transition to recovery efforts, Texans may face the challenge of animal disposal. Please use the following resources to guide you during this recovery phase.
Animal Carcasses in Pubic Areas (including residential): Animal carcasses found in public areas or rights-of-way should be reported to the local county Emergency Operations Center (EOC) to be handled through the jurisdiction's debris management plan. You can find your county's EOC information at http://www.tdms.org/county.aspx or or on your county's website.
Carcasses on private property, non-residential areas: Animal owners and operators are responsible for the proper disposal of their animals. To learn about common methods of non-diseased animal carcass disposal visit Disaster-Related Carcass Disposal Guide. or visit the Texas Commission Environmental Quality's website at www.tceq.texas.gov.
The Natural Resources Conservation Service (NRCS) can provide additional technical assistance and may be able to help with debris removal from waterways. For more information visit www.nrcs.usda.gov.
If you find a stray animal carcass on your property, contact your local EOC. You can find your county's EOC information at http://www.tdms.org/county.aspx.
TSGRA UPCOMING EVENTS
July 19 - 21, 2018
Y.O. Ranch Hotel
The dates have been set for the TSGRA 103rd Annual Convention!
Save the Date and book your rooms!