Membership
As a member of the Texas Sheep and Goat Raisers Association you will have a voice in actions which affect your welfare. We take our members feedback and ideas directly to Washington and Austin in an effort to improve the ranching industry in Texas. As a member, YOU have a voice, YOU make a difference.
In addition to your membership, you will receive the following special gifts:
New $75 members receive a personalized gate sign and a subscription to Ranch and Rural Living Magazine.
Associate(Business) members receive a small personalized office sign and a subscription to Ranch and Rural Living Magazine. Associate Membership is $75 per year.
Junior(non-voting) members receieve a junior member sign to hang on a show pen or at home. Junior memberships are for youth under 18 years of age. It is $25.00 one-time fee.
Ranch & Rural Living Magazine
Ranch & Rural Living Magazine has been in publication since 1920. Today, it is a monthly publication that reaches thousands of readers throughout the state. It features articles and news about Sheep, Goats, Cattle, and Country Living for ranchers in Texas. The TSGRA is a direct supporter of the magazine and members of the organization receive a free subscription as part of their membership. For more information about the magazine please visit the official website.
If you would prefer to mail in your membership application click here to download the mail-in TSGRA membership form . You will need Adobe Reader or Acrobat in order to view the pdf. Print and fill out the form, then send it along with any payments to:
Texas Sheep & Goat Raisers Association
P.O. Box 2290
San Angelo, TX 76902
If you have any questions about membership or how to apply please contact us via:
Phone: 325.655.7388
Email: tsgra@wcc.net
TSGRA Recipes
Tasty recipes featuring lamb and goat! Check back often for more!
---
Rack of Lamb With Maple-Roasted Brussels Sprouts, Delicata Squash, and Pears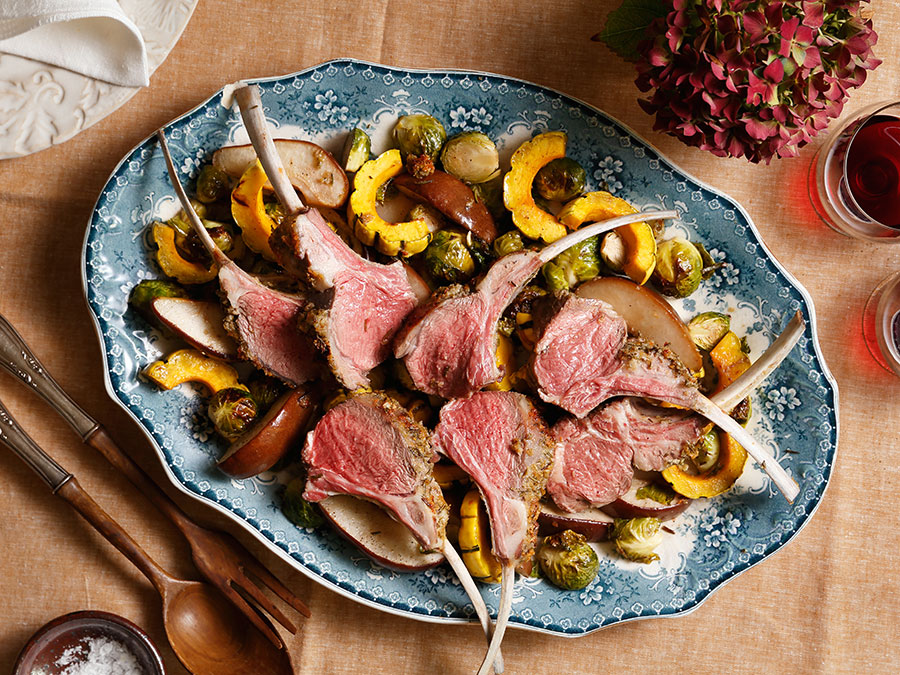 View Recipe